MOSCOW RUSSIA

CABARET OF METAMORPHOSES
SHOW OF MARIONETTES AND LIGHT PUPPETS
wordless puppet performance (12+)
technique - string marionettes, LED, giant and experimental puppets
duration - 2 hours with one intermission
CABARET OF METAMORPHOSES - multi award-winning show of marionettes and light puppets with incredible transformations. Each puppet in this fun and unpredictable wordless performance is not only a work of art, but also a new unique design that can surprise the most demanding spectators. The program of the show is designed as a journey into the world of the most complex and interesting kind of puppets - the art of string marionettes, where each miniature is a new unexpected turn that reveals new possibilities of this unique genre. This performance has repeatedly represented contemporary Russian puppetry at the most prestigious foreign theater festivals around the world, captivating audiences with its technical innovation, creativity and virtuoso puppetry manipulation. The unique performances of the Nikolai Zykov Theater are gathering full halls all around the world with invariable success. Critics call these shows "like a discovery", and Nikolai Zykov "one of the most significant puppeteers in the world."
Nikolai Zykov is an artist of the world stage, who has delighted spectators in more than 50 countries of Europe, Asia, Africa, North and South America, has created more than 200 unique puppets, glove, rod and experimental puppets. Nikolai is the author, director, artist and performer of more than 30 puppet shows with many international awards for innovative creativity and outstanding performance, including awards of the UNIMA World Puppeteers Congresses.
This show contains unique marionettes and light puppets created by Nikolai Zykov in different years, all the puppets in this show have completely new designs, materials and control systems. Nikolai Zykov is not only the author and master who made all these puppets, but also an artist who demonstrates his virtuoso manipulation of one, two and several complex puppets at the same time. This show demonstrates new original ways of puppet transformations, transformation of puppets from unusual materials, transformation of two puppets at the same time by one puppeteer, unique EL-wire and the most modern LED light puppets.
"Zykov captivates the audience by precise and majestic manipulation of his delightful and complex puppets" Festival de Bonecos, Canela, Brazil.
"Nikolai Zykov is a celebrated Russian puppeteer, known for pushing the boundaries of traditional puppetry." World Performing Arts Festival, Lahore, Pakistan.
"…amazing, what great great puppets, excellent, original, funny, entertaining and unique." Peter Garofalo, Northampton, UK.
"Nikolai Zykov has a variety of technical surprises that make his shows a success. Nikolai Zykov is making the step of technical development into the future." Jakob Steiner, Austria.
"...Using modern materials and technologies, Zykov presented a very spectacular show, which excited the audience by its refinement and luxury..." Revista E. Sao Paulo, Brazil.
"...flashy and upbeat marionette variety show by manipulator extraordinaire..." Out the Box. Cape Town, South Africa.
"The humor, elaborate sets and the virtuoso operating technique galvanizes the audience..." Youth Review, Russia.
"Only a real professional could create such a miraculous concert, for whom each of his puppets is a living creature with its own character, and who freely finds a common language with them!" Zvezdochka magazine, Russia
"Nikolai Zykov is the most titled puppeteer in Russia, a master of the highest international class ..." News. Culture TV channel, Russia.
"Nikolai's works, both modern and classical, are beautiful. He is undoubtedly the treasure of the nation." Stephen Mark Overton, USA.
"Nikolai Zykov is one of the most significant puppeteers in the world, ... a real Master!" Festival de Bonecos, Canela, Brazil.
Among the awards: "Arts Innovation" Award of the 12th China Shanghai International Arts Festival , "Excellent Show" Award of the 21st UNIMA Congress and World Puppet Festival in Chengdu, "Performance Award" of Asia-Pacific UNIMA commission, Award of the 4th Colombo International Theatre Festival, Award "For brilliant performing mastery" of the 12th International Festival of Contemporary Puppetry in Bucharest, "Outstanding Creativity" Award of Asia-Pacific UNIMA commission , "Sell-out show" Laurel of Edinburgh Festival Fringe.
Nikolai Zykov has performed his puppet shows more than 4000 times in more than 50 countries around the world: in Argentina, Brazil, Venezuela, Mexico, United States, Canada, Iceland, Estonia, Latvia, Russia, Byelorussia, Poland, Germany, Belgium, United Kingdom, France, Spain, Italy, Switzerland, Austria, Czech Republic, Slovakia, Hungary, Romania, Moldova, Transnistria, Bulgaria, Greece, Cyprus, Turkey, Israel, Egypt, South Africa, Mauritius, Seychelles, Azerbaijan, Iran, Kazakhstan, Uzbekistan, Tajikistan, Afghanistan, Pakistan, India, Bangladesh, Sri Lanka, China, Singapore, Taiwan, South Korea and Japan.
I
In the program - WELCOME TO THE CABARET, PARADISE BIRD, ORIENTAL MAGICIAN, HAWAIIAN DANCE, SECOND BIRTH, PHANTOM OF THE OPERA, CD MAN, QUEEN OF DISCO, RUSSIAN SOUVENIR, GIANT. (The program can be changed)
The duration of the show is 2 hours with one intermission.

Presentation without a language barrier.

Age category of presentation 12+

Puppet technique - string marionettes, LED, giant and experimental puppets

Author, artist, director and performer - NIKOLAY ZYKOV

Puppeteer and puppeteer assistant - NADEZHDA DUBININA.

Puppeteer and Technical Director - SERGEY ISAEV.

All puppets are created, designed and made by NIKOLAI ZYKOV

First presentation - June 21 1996, Canela, Brazil.

Modern edition - January 23 2015, Moscow City Puppet Theatre, Russia.

Award "for brilliant performing mastery" of the 12th Bucharest International Festival of Contemporary Puppetry (Romania).

Diploma of the Sao Paulo International Puppet Festival (Brazil).

Official program participant of the 12th Charleville-Mezieres World Puppet Festival (France).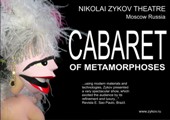 Technical requirements: one microphone in hand and a non-stop mp3 playback, the preferred stage wide - 6-10 m, stage depth - 6-10 m, the curtains must be black or dark, one 220 V socket is required on the stage. More information in Official rider.
---