MOSCOW RUSSIA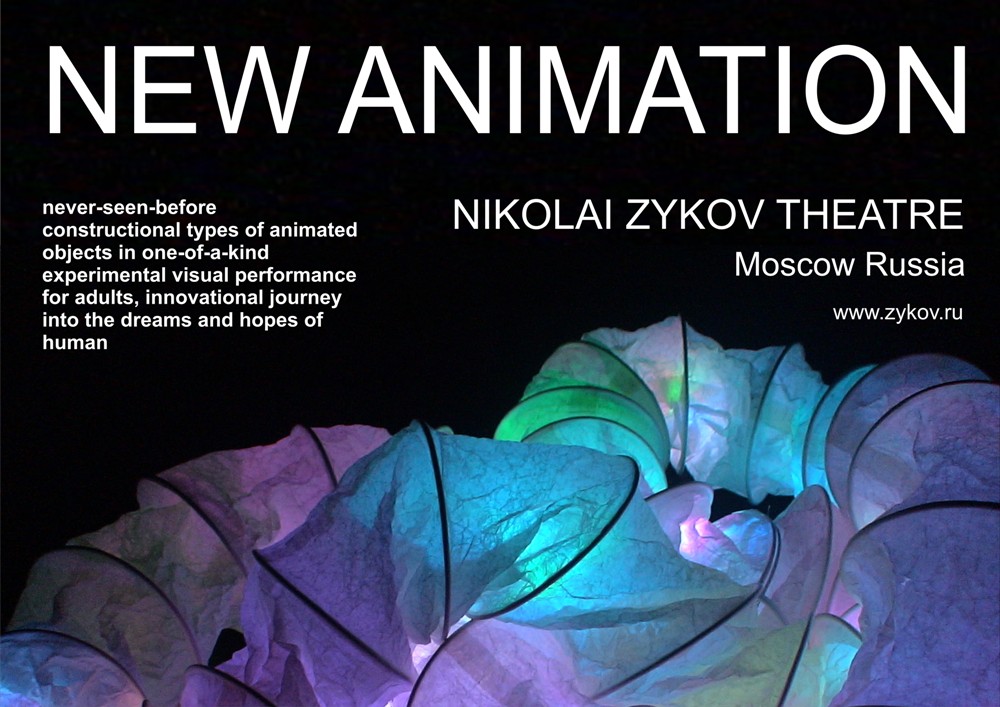 21st CENTURY PUPPETS
NEW ANIMATION
SHOW OF LIGHT AND EXPERIMENTAL PUPPETS
wordless puppet performance (12+)
technique - vertical and horizontal marionettes, giant, radio-controlled, LED, pneumatic and experimental puppets
duration - 90 min
Unpredictable wordless puppet show featuring a stunning variety of innovative electro-luminous and experimental objects. Nikolai Zykov Theatre preserves and develops the art of puppetry based on the ancient traditions of different countries of the world by using innovative materials and technologies. Each puppet in the performance is not only a work of art, but also a new unique design. Truly new and unusual puppets by Nikolai Zykov have many technical surprises and are able to surprise the most demanding spectators. An innovative show program of light and experimental puppets with new creative possibilities is offered to the attention of the audience. An unpredictable kaleidoscope of very different miniatures takes spectators on a journey through the human subconscious. The unique performances of the Nikolai Zykov Theater are gathering full halls all around the world with invariable success. Critics call these shows "pushing the boundaries of traditional puppetry", and call Nikolai Zykov "one of the most significant puppeteers in the world."
Nikolai Zykov is an artist of the world stage, who has delighted spectators in more than 50 countries of Europe, Asia, Africa, North and South America, has created more than 200 unique puppets, glove, rod and experimental puppets. Nikolai is the author, director, artist and performer of more than 30 puppet shows with many international awards for innovative creativity and outstanding performance, including awards of the UNIMA World Puppeteers Congresses.
This performance is an experiment in the creation and use of completely new LED structures, puppets made of unusual materials, radio-controlled and pneumatic puppets, vertical rotating structures, chemiluminescent and horizontal marionettes, experimental rod and giant puppets. The new materials themselves, LEDs and electroluminescent wires are the source of inspiration for the creation of images and the object of revitalization in this performance. New types of structures allow you to create completely new images on stage, evoke completely new sensations and experiences in the audience, open up the opportunity to express new thoughts and ideas through new artistic tools.
"Nikolai Zykov is a celebrated Russian puppeteer, known for pushing the boundaries of traditional puppetry." World Performing Arts Festival, Lahore, Pakistan.
"Nikolai Zykov has a variety of technical surprises that make his shows a success. Nikolai Zykov is making the step of technical development into the future." Jakob Steiner, Austria.
"If we talk about the puppet genre, then experiments are being carried out in it today. New technical capabilities allow you to do completely unexpected tricks. Nikolai Zykov, as befits acting artists, is always in search." ORT TV, Russia.
"...Using modern materials and technologies, Zykov presented a very spectacular show, which excited the audience by its refinement and luxury..." Revista E. Sao Paulo, Brazil.
"Nikolai's works, both modern and classical, are beautiful. He is undoubtedly the treasure of the nation." Stephen Mark Overton, USA.
"Nikolai Zykov - a talented director, actor and artist, who uses the cutting-edge innovations." Moscow Region TV, Russia.
"Nikolai Zykov is one of the most significant puppeteers in the world, ... a real Master!" Festival de Bonecos, Canela, Brazil.
"Do not even try to understand how he does it all, just watch and enjoy" Stanislav Zhelezkin, Russia.
Among the awards: "Arts Innovation" Award of the 12th China Shanghai International Arts Festival , "Excellent Show" Award of the 21st UNIMA Congress and World Puppet Festival in Chengdu, "Performance Award" of Asia-Pacific UNIMA commission, Award of the 4th Colombo International Theatre Festival, Award "For brilliant performing mastery" of the 12th International Festival of Contemporary Puppetry in Bucharest, "Outstanding Creativity" Award of Asia-Pacific UNIMA commission , "Sell-out show" Laurel of Edinburgh Festival Fringe.
Nikolai Zykov has performed his puppet shows more than 4000 times in more than 50 countries around the world: in Argentina, Brazil, Venezuela, Mexico, United States, Canada, Iceland, Estonia, Latvia, Russia, Byelorussia, Poland, Germany, Belgium, United Kingdom, France, Spain, Italy, Switzerland, Austria, Czech Republic, Slovakia, Hungary, Romania, Moldova, Transnistria, Bulgaria, Greece, Cyprus, Turkey, Israel, Egypt, South Africa, Mauritius, Seychelles, Azerbaijan, Iran, Kazakhstan, Uzbekistan, Tajikistan, Afghanistan, Pakistan, India, Bangladesh, Sri Lanka, China, Singapore, Taiwan, South Korea and Japan.

In the program: PROLOGUE (experimental construction), TRIPTYCH (CD-marionettes), ASTROLOGY (radio-controlled objects), HOKU (electro-mechanic object), EXORCISM (garbage marionettes), METAMORPHOSES (electro-mechanic object), HISTOIRE D'AMOUR (glow marionettes), ISLAND OF LOVE (LED-pneumatic object), WORM (experimental construction), GARBAGE CANS (vocal quartet), EPILOGUE (electro-mechanic transformer). (The program can be changed)
The duration of the show is 90 min without intermission.

Presentation without a language barrier.

Age category of presentation 12+

Puppet technique - vertical and horizontal marionettes, giant, radio-controlled, LED, pneumatic and experimental puppets

Author, artist, director and performer - NIKOLAI ZYKOV

Puppeteer and puppeteer assistant - NADEZHDA DUBININA.

Puppeteer and Technical Director - SERGEY ISAEV.

All puppets are created, designed and made by NIKOLAI ZYKOV

First presentation - December 10 2012, Masters of Arts Central House, Moscow, Russia.

Modern edition - February 7 2015, Moscow Puppet Theatre, Russia.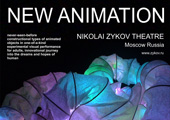 Technical requirements: one microphone in hand and a non-stop mp3 playback, the preferred stage wide - 6-10 m, stage depth - 6-10 m, the curtains must be black or dark, one 220 V socket is required on the stage. More information in Official rider.
---