MOSCOW RUSSIA
PHANTOM OF THE OPERA
Created, designed and built by Nikolai Zykov in 2002.

Puppet form: trick marionettes.

Number of strings: 27 (18+9)

Height: 100 cm / 39 in.

Materials: papier-mache, styrofoam, plastic, foaming polyethylene, metal wire, fabric.

First presentation - November 14, 2002, Concert Hall of Moscow Aviation University.

Phantom of the Opera is an original parody of the world famous musical.

The beginning of the vignette is quite the same as in the original musical, but the final is unexpectedly different.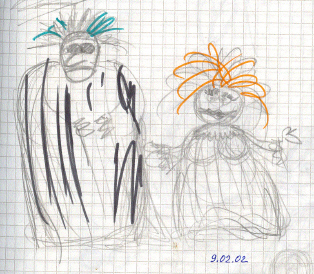 Singer transforms step by step into the Monster.
The Phantom transforms immediately into the rabbit.
The vignette has new original construction of total transformation of marionette "in jump".
These two very difficult transforming puppets are operated by one puppeteer simultaneously.
See PHOTO ALBUM of PHANTOM OF THE OPERA.
Step by step transformation of Singer: