MOSCOW RUSSIA
QUEEN OF DISCO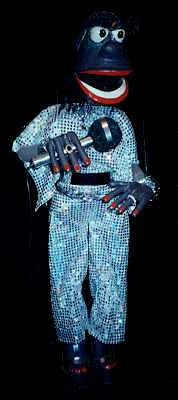 Created, designed and built by Nikolai Zykov in 1981.
Puppet form: short string marionette.
Height: 100 cm / 39 in.
Materials: papier-mâché, foam plastic, foam rubber, wood, metal wire, fabric.
On August 17 at 22.05 Nikolai saw at TV 's video clip of Gloria Gaynor for the first time. And just 10 days later on August 27 the puppet was ready.
First presentation for the public - September 19, 1981, Concert Hall "Burevestnik", Moscow.
At first the puppet costume was made of details of white laboratory overall. The second costume was made of silver spangles fabric, and now the costume is made of luxury laser spangles fabric. But in all costumes this puppet was a great success in any performances: for children and for adults, for Russian and for international audience.
Queen of Disco took part in many Russian and foreign TV shows.
Queen of Disco successfully performed in 34 countries of the world.
See PHOTO ALBUM of QUEEN OF DISCO.
Queen of Disco in TV show, Leningrad, USSR, 1990.
Queen of Disco in TV show, Moscow, Russia, 2006.
Nikolai Zykov about Queen of Disco, TV Doverie, Moscow, Russia, 2011.