MOSCOW RUSSIA

《魔术世界的牵线木偶》传统和独特的人物,转型和不可预知的诱惑木偶,儿童和家庭观众的表演(50分钟/3人/无付费行李/多达500名观众/无语)
THE MAGIC WORLD OF MARIONETTES
EDITION 1993
wordless puppet show for children and family audience
technique - string marionettes
duration - 50 min or 1 h 30 min with one intermission/ up to 800 spectators)
transportation - 3 persons/ no paid luggage
THE MAGIC WORLD OF MARIONETTES - traditional and unique characters, transforming and unpredictable trick marionettes in performance for children and family audience. Nikolai Zykov is a world famous puppeteer who has performed his puppet shows in more than 40 countries of Europe, Asia, Africa, North and South America and has created and has made more than 200 unique puppets. Nikolai Zykov is an author, director, artist and performer of over 20 puppet performances which have received many international awards for innovative creativity and outstanding performing mastery, including Awards of World UNIMA Congresses.
Nikolai Zykov has performed his puppet shows in many cities of Russia and also in Argentina, Brazil, Venezuela, Mexico, United States, Iceland, Estonia, Latvia, Byelorussia, Ukraine, Poland, Germany, Belgium, United Kingdom, France, Spain, Italy, Switzerland, Austria, Czech Republic, Slovakia, Hungary, Romania, Bulgaria, Greece, Cyprus, Turkey, Israel, Egypt, South Africa, Mauritius, Seychelles, Iran, Kazakhstan, Uzbekistan, Tajikistan, Afghanistan, Pakistan, India, Sri Lanka, China, Singapore, Taiwan, South Korea and Japan.
Among the awards: "Arts Innovation" Award of the 12th China Shanghai International Arts Festival (2010), Diploma and "Excellent Show" Award of the 21th UNIMA Congress and World Puppet Festival in Chengdu (2012), "Performance Award" of Asia-Pacific UNIMA commission (2014), Award of the 4th Colombo International Theatre Festival (2015), Award "For brilliant performing mastery" of the 12th International Festival of Contemporary Puppetry in Bucharest (2016), "Outstanding Creativity" Award of Asia-Pacific UNIMA commission (2017), "Sell-out show" Laurel of Edinburgh Festival Fringe (2017).
Author, artist, director and performer - NIKOLAI ZYKOV

Wardrobe, assistant of puppeteer - NADIA DUBININA

Stage technician, light operator - SERGEY ISAEV

All puppets are created, designed and made by NIKOLAI ZYKOV

First presentation - August 16 1993, World EXPO, Taejon, South Korea,

Modern edition - May 4 2018, Juheul Community centre, Mungyeong, South Korea,

Official program participant of the 10th Charleville-Mezieres World Puppet Festival (France).

Diploma of the 17th UNIMA Congress and World Puppet Festival in Budapest (Hungary).

Diplomas of International Puppet Festivals in Tlaxcala (Mexico), Lahore (Pakistan), Chilgok (South Korea) and Moscow Crystal Petrushka International Puppet Festival (Russia).
IN THE PROGRAM: RUSSIAN BEAUTY, NORTHERN GIRL, ORIENTAL MAGICIAN, PIANIST AND SINGER, QUEEN OF DISCO, RUSSIAN SOUVENIR , FIRE BIRD. (The program can be changed)
See PHOTO ALBUM of THE MAGIC WORLD OF MARIONETTES.
THE MAGIC WORLD OF MARIONETTES was presented in many Russian cities, as well as in Brazil, Venezuela, Mexico, Iceland, Belgium, France, Italy, Hungary, Turkey, Mauritius, Seychelles, Pakistan, Singapore, South Korea and Japan.
"Nikolai is not only manipulates his puppets, he invents new technical tricks, invents new puppets. Kids perceive his puppets as living dolls. Performance "The Magic World of marionettes" is a series of vignettes that represent different characters and different cultures. Puppets amuse and entertain you, they make you laugh and empathy, they teach you to appreciate the kindness and also - they prolong childhood. It's amazing, bright and romantic world. Elena Ozerova, "Culture" TV, Russia.
"The humor, elaborate sets and the virtuoso operating technique galvanizes the audience..." Tatyana Russkikh. Youth Review, Russia.
"...Using modern materials and technologies, Zykov presented a very spectacular show, which excited the audience by its refinement and luxury..." Revista E. Sao Paulo, Brazil.
"Nikolai Zykov who attended the Festival from Russia impressed everyone, even the children and the adults. His show was wordless but everyone could understand easily." Murat Sezer. Vizyon, Turkey.
"Nikolai Zykov has a variety of technical surprises that make his shows a success. His puppets live independently from their creator. Nikolai Zykov is making the step of technical development into the future." Jakob Steiner, Austria.
"Nikolai Zykov is a celebrated Russian puppeteer, known for pushing the boundaries of traditional puppetry." World Performing Arts Festival, Lahore, Pakistan.
"...a super professional, without exaggeration a real master..." Regina Dubovitskaya. Russia TV, Russia.
"His puppet show doesn't leave anybody indifferent. Everything he shows is like a discovery..." Olga Semenova. Molodaya Gvardia, Russia.
"... One of the very interesting representatives of this laborious genre ..." Yevgeny Petrosyan. 1TV, Russia.
"...the most titled puppeteer of Russia, the master of world class..." News. Culture TV, Russia.
"Nikolay Zykov is one of the most important puppeteers of the world ... a master!" Festival de Bonecos, Canela, Brazil.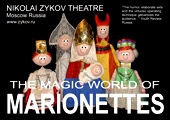 THE MAGIC WORLD OF MARIONETTES poster
Technical requirements: one microphone on the cord and a non-stop mp3 (or Audio CD) playback, the preferred stage height is 1m 10cm, depth is 6m, the curtains must be black or dark. The team provides itself with lighting equipment, for connection 220 V sockets are required on the stage and at the end of the hall.
---