MOSCOW RUSSIA
DINOSAUR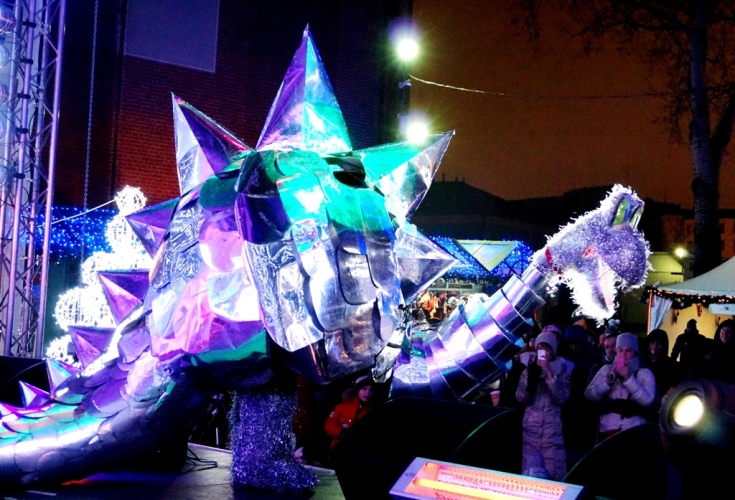 Created, designed, and built by Nikolai Zykov in 1980-1983.
Puppet form: giant puppet.
Height: 2 m / 6 ft.
Length: 5 m / 16 ft.
Materials: metal wire, silver foil, foam rubber.
The first Dinosaur was built in May 1980, and in July 1980 it took part in the Cultural program of the XX World Olympic Games in Moscow.
The first Dinosaur was covered with khaki fabric.
The second Dinosaur was built on November 10, 1983 and was covered with silver foil.
DINOSAUR - originally constructed a giant puppet completely covered with silver foil and equipped with LED mouth and eyes. The main feature of Dinosaur is the sudden appearance of an actor from a special side door.
The Dinosaur took part in many popular TV programs and performs with great success in many performances of Nikolai Zykov.
The Dinosaur is a multilingual vignette. The puppet sings in Russian, English, French, Turkish and and in other languages.
See PHOTO ALBUM of DINOSAUR.
Dinosaur in TV show, Moscow, Russia, 2001.
Nikolai Zykov about Dinosaur, TV Doverie, Moscow, Russia, 2011.
December 26, 2011 - participation of Dinosaur in New Year Ball together with Orchestra of the XXI Century, conductor Pavel Ovsyannikov, Ekaterininskiy Hall, Tsaritsino Palace, Moscow, Russia. Video
January 3, 2012 - participation in New Year TV Show, TVC TV, Russia. Video