MOSCOW RUSSIA
PIANIST AND SINGER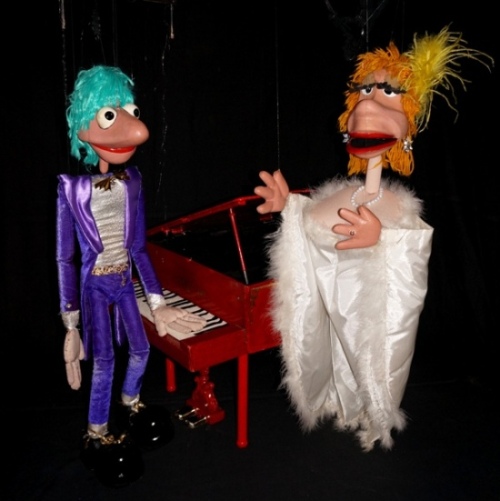 Created, designed and built by Nikolai Zykov in 1981.
System: marionettes.
Height: 90 cm / 35 in.
Materials: papier-mache, foam plastic, foamrubber, wood, metal wire, fabric, ostrich feathers, glass furniture.
The Pianist is the oldest marionette of Nikolai Zykov. The first Pianist was made at the beginning of 1980 and very successfully performed in the cultural program of the XX World Olympic Games in Moscow.
The Singer was made in 1981, and two puppets started to perform together.
The Pianist, Singer and Piano you can see now were made in 1982. New trick with flowers was added in 1997.
PIANIST AND SINGER - two very difficult multifunctional marionettes which are operated by one puppeteer simultaneously.
See PHOTO ALBUM of PIANIST AND SINGER
Pianist & Singer in TV show, Leningrad, USSR, 1990.
Pianist & Singer in TV show, Moscow, Russia, 2004.