MOSCOW RUSSIA
SNOWMAN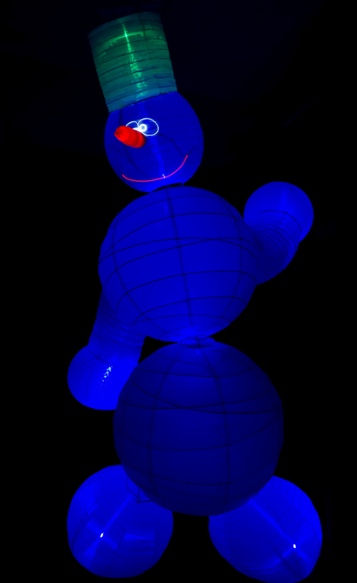 Created, designed and built by Nikolai Zykov in 2018.
Puppet form: giant LED puppet operated by 5 rods.
Height: 3 m / 10 ft.
Materials: paper, fabric, metal wire, fiber plastic, LED, EL-wire.
SNOWMAN is a giant glow puppet which is assembled on the stage.
The puppet is operated by one puppeteer.
Step 1: puppeteer brings 7 paper lamps on stage.
Step 2: light off, lamps start lighting and assemble in giant human Snowman figure.
Step 3: song of newborn Snowman.
The puppet can be performed without glow effect in TV and on daylight stages.
See PHOTO ALBUM of SNOWMAN.