MOSCOW RUSSIA
)
CONCERT OF LIGHT PUPPETS AND MARIONETTES
TO THE MUSIC OF J. S. BACH
wordless puppet show for family audience
technique - string marionettes, rod and giant puppets
duration - 60 min
CONCERT OF LIGHT PUPPETS AND MARIONETTES - absolutely original, innovative, interactive wordless presentation of light puppets and marionettes for the whole family. Johann Sebastian Bach (1685 - 1750) - German composer and musician. His music is remarkable for its extraordinary beauty and intellectual depth. The performance consists of unique puppet miniatures by Nikolai Zykov to music by Bach for various musical instruments. The concert program is designed as a journey into the world of the most diverse human moods, conveyed with the help of the music of the great composer. A bee and a dragonfly frolic to the sound of a harpsichord, a ballerina dances to the sound of a flute, candles are lit in the palace to the sound of a string ensemble, fantastic creatures dance accompanied by a choir, jellyfish float to the sound of a harp above the hall, and unusual light structures come to life to the sound of an organ. At this performance, children get a unique opportunity to get acquainted with classical music using the fascinating technologies of the most modern puppet theater, and adults, having lost the sense of space and time, regain the opportunity of sincere surprise and genuine delight. The unique performances of the Nikolai Zykov Theater are gathering full halls all around the world with invariable success. Critics call these shows "goose bumps", and Nikolai Zykov "one of the most significant puppeteers in the world."
Nikolai Zykov is an artist of the world stage, who has delighted spectators in more than 50 countries of Europe, Asia, Africa, North and South America, has created more than 200 unique puppets, glove, rod and experimental puppets. Nikolai is the author, director, artist and performer of more than 30 puppet shows with many international awards for innovative creativity and outstanding performance, including awards of the UNIMA World Puppeteers Congresses.
In this performance, each puppet is completely unique and unusual. In order to match the great music of Bach, only puppets are included, which in themselves are unique achievements in their art form. Right before the eyes of the audience, unique light structures are created and come to life from electroluminescent wires and different types of LEDs, which then easily hover over the stage and the audience. In this performance, spectators will also see some of the most complex string marionettes created using completely new materials and technologies, the revival of which also requires the highest skill from the performer.
"Living puppets, unusual puppets, delightful puppets accompanied by immortal music. I felt like a child who saw the ocean for the first time and was suffocating with delight." Olga Shilova, Russia.
"... a stunning puppet performance." Tarek Nader. Alexandria, Egypt.
"The work Nikolai Zykov does both modern, and classical is beautiful to look at. Nikolai Zykov is definitely a National Treasure". Steven Mark Overton, USA.
"Zykov captivates the audience by precise and majestic manipulation of his delightful and complex puppets" Festival de Bonecos, Canela, Brazil.
"Nikolai Zykov who attended the Festival from Russia impressed everyone, even the children and the adults. His show was wordless but everyone could understand easily." Vizyon, Turkey.
"Nikolai Zykov is one of the most important puppeteers of the world ... a master!" Festival de Bonecos, Canela, Brazil.
"...the most titled puppeteer of Russia, the master of world class..." News. Culture TV, Russia.
"Nikolai Zykov is a celebrated Russian puppeteer, known for pushing the boundaries of traditional puppetry." World Performing Arts Festival, Lahore, Pakistan.
"...Using modern materials and technologies, Zykov presented a very spectacular show, which excited the audience by its refinement and luxury..." Revista E. Sao Paulo, Brazil.
"...enchanting show, which can hold the attention of spectators of all ages." Doverie TV, Russia.
Among the awards: "Arts Innovation" Award of the 12th China Shanghai International Arts Festival , "Excellent Show" Award of the 21st UNIMA Congress and World Puppet Festival in Chengdu, "Performance Award" of Asia-Pacific UNIMA commission, Award of the 4th Colombo International Theatre Festival, Award "For brilliant performing mastery" of the 12th International Festival of Contemporary Puppetry in Bucharest, "Outstanding Creativity" Award of Asia-Pacific UNIMA commission , "Sell-out show" Laurel of Edinburgh Festival Fringe.
Nikolai Zykov has performed his puppet shows more than 4000 times in more than 50 countries around the world: in Argentina, Brazil, Venezuela, Mexico, United States, Canada, Iceland, Estonia, Latvia, Russia, Byelorussia, Poland, Germany, Belgium, United Kingdom, France, Spain, Italy, Switzerland, Austria, Czech Republic, Slovakia, Hungary, Romania, Moldova, Transnistria, Bulgaria, Greece, Cyprus, Turkey, Israel, Egypt, South Africa, Mauritius, Seychelles, Azerbaijan, Iran, Kazakhstan, Uzbekistan, Tajikistan, Afghanistan, Pakistan, India, Bangladesh, Sri Lanka, China, Singapore, Taiwan, South Korea and Japan.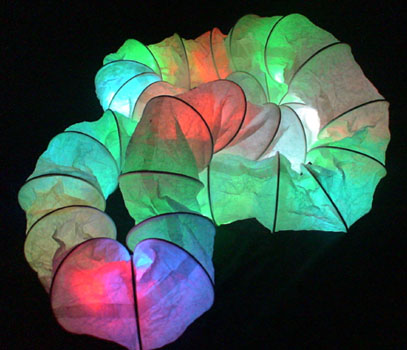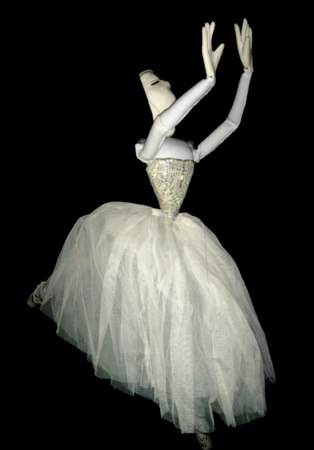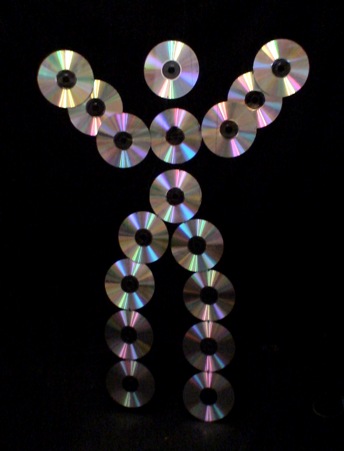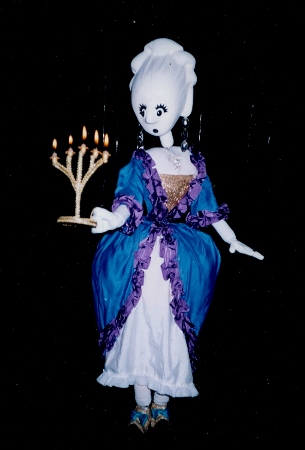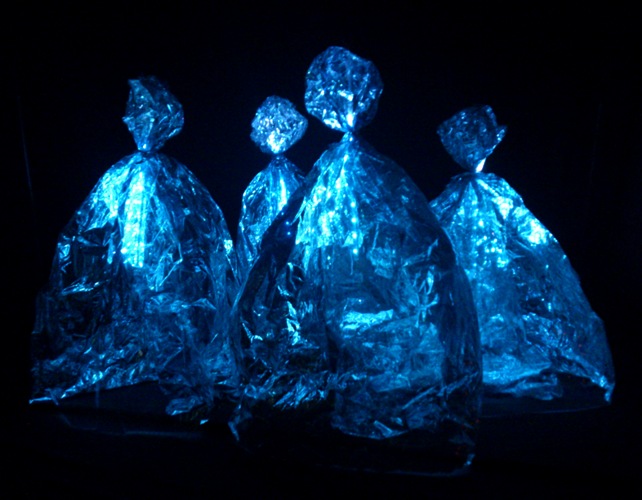 IN THE PROGRAM:
1. Chorale Prelude in F minor BWV 639

2. Ave Maria (first prelude) in C major (J. S. Bach BWV 846 / Ch. Gounod)

3. Gavotte No. 1 and No. 2 from the English Suite No. 6 in D minor, BWV 811

4. Prelude and Fugue in A minor, BWV 895

5. Cantata "Be satisfied again, my soul", BWV 21 (Part 9, G minor)

6. Italian Clavier Concerto in F major, BWV 971 (Part 1)

7. Largo from Concerto No. 5 for clavier and orchestra in F minor (Arioso), BWV 1056

8. Pastoral in F major BWV 590 ( Part 3), Prelude in D minor BWV 565

9. Scherzo from suite for flute and orchestra No. 2 in B minor, BWV 1067

10. Pastoral in F major BWV 590 (Part 1), Fugue in D minor BWV 565, Prelude in E flat major BWV 552 (excerpt)
The duration of the show is 1 hour without intermission.

Presentation without a language barrier.

Age category of presentation 0+

The show is recommended for spectators from 3 years old

Puppet technique - marionettes, rod, giant, LED, EL-wire and experimental puppets

Author, artist, director and performer - NIKOLAY ZYKOV

Puppeteer and puppeteer assistant - NADEZHDA DUBININA.

Puppeteer and Technical Director - SERGEY ISAEV.

All puppets are created, designed and made by NIKOLAI ZYKOV

First presentation - October 22 2014, Jesuits Cultural Centre, Alexandria, Egypt.

Premiere of the modern edition - October 27, 2018, House of Music, Kaluga, Russia.

Official program participant of the La Feria Europea de Artes Escenicas FETEN 2015, Gijon (Spain).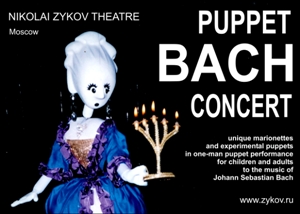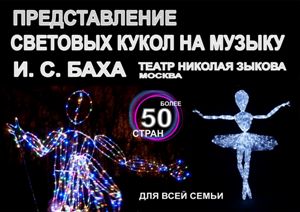 Technical requirements: one microphone in hand and a non-stop mp3 playback, the preferred stage wide - 6-10 m, stage depth - 6-10 m, the curtains must be black or dark, one 220 V socket is required on the stage. More information in Official rider.
---