MOSCOW RUSSIA

《巨人和其他》 實驗結構和獨特的牽線木偶,屢獲殊榮的木偶戲,為家庭觀眾(60分鐘或1小時30分鐘同休息時間/3人/無付費行李/多達1000名觀眾/無語)
GIANT AND OTHERS
wordless puppet show for children and family audience
technique - string marionettes, giant and experimental puppets
duration - 60 min or 1 h 30 min with one intermission/ up to 1000 spectators
transportation - 3 persons/ no paid luggage
GIANT AND OTHERS - multi award-winning, funny and unpredictable wordless puppet show featuring a stunning variety innovative puppets. Unique marionettes, giant and experimental puppets will entertain and delight the whole family. Nikolai Zykov is a world famous puppeteer who has performed his puppet shows in more than 40 countries of Europe, Asia, Africa, North and South America and has created and has made more than 200 unique puppets. Nikolai Zykov is an author, director, artist and performer of over 20 puppet performances which have received many international awards for innovative creativity and outstanding performing mastery, including Awards of World UNIMA Congresses.
Author, artist, director and performer - NIKOLAI ZYKOV

Wardrobe, assistant of puppeteer - NADIA DUBININA

Stage technician, light operator - SERGEY ISAEV

All puppets are created, designed and made by NIKOLAI ZYKOV

First presentation - September 24 2003, Sevigne Concert Hall, Charleville-Mezieres, France.

Modern edition - May 29 2017, Summer Tandarica Theatre, Bucharest, Romania.

"Arts Innovation" Award of the 12th Shanghai International Arts Festival and the 2nd Shanghai International Puppet Festival Golden Magnolia (China).

Official program participant of the 13th Charleville-Mezieres World Puppet Festival (France).

Diplomas of International Puppet Festivals in Moscow Obraztsov Theatre (Russia), Latsia (Cyprus) and Kilkis (Greece).
IN THE PROGRAM: FUNNY COMPANY, BALLERINA, SAXOPHONE PLAYER, PHANTOM OF THE OPERA, CD MAN, QUEEN OF DISCO, RUSSIAN SOUVENIR , GIANT .
See PHOTO ALBUM of GIANT AND OTHERS.
GIANT AND OTHERS was presented in many Russian cities, as well as in Italy, France, Poland, Belarus, Cyprus, Greece, Turkey, India, China and South Korea.
"Nicolai Zykov is one of the most important puppeteers in the world ... a master!" Festival de Bonecos, Canela, Brazil.
"Nikolai Zykov has a variety of technical surprises that make his shows a success. His puppets live independently from their creator. Nikolai Zykov is making the step of technical development into the future." Jakob Steiner, Austria.
"...enchanting show, which can hold the attention of spectators of all ages." Julia Byhanova, Doverie TV, Russia.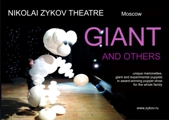 GIANT AND OTHERS poster
---